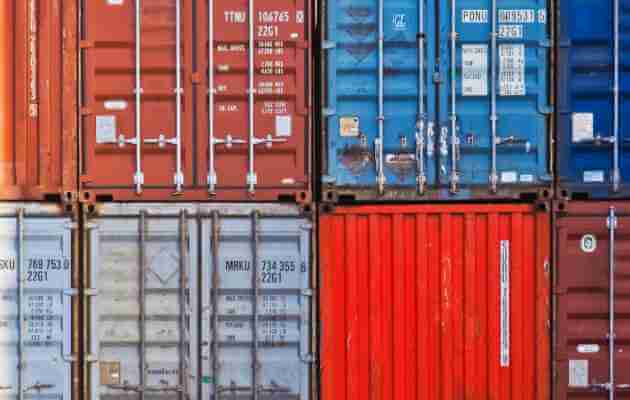 Whether you're in-between moving house, taking a long break overseas, or going home from college for the summer (or a host of other options), you'll likely need somewhere secure to store your belongings. For some, the solution is to rent a storage space in a friend's garage or basement, but often the most practical, secure and unobtrusive answer is renting a storage space.
This might sound like a simple idea, and it is – but not all storage facilities are one and the same, so it helps to understand a little more about what to consider when choosing one.
Here is a guide for average prices to expect, how much space you might need, and what other factors you will need to account for when choosing a self-storage facility.
How much does self-storage cost?
According to the 2022 UK Annual Industry Report from the Self Storage Association (SSA), the average cost to rent self-storage space in the UK is £26.13 per square foot per year (up 9% on last year).
Average Cost of Self-Storage in London
Like most things, the cost of self-storage in London is usually more expensive than in other regions, so if London is where you're shopping for storage, make sure you budget accordingly.
The SSA's most recent report doesn't break down average London prices, so we've taken the 2021 figures and added 9% as per the growth rate across the country in the last year (rounded to the nearest pound).
Indicative average London storage prices are now, therefore:
25 sq. ft. – £17 weekly / £75 monthly
35 sq. ft. – £24 weekly / £105 monthly
50 sq. ft. – £35 weekly / £150 monthly
35 sq. ft. – £52 weekly / £225 monthly
*The above prices are only indicative based upon the 9% annual growth rate applied to figures published in the 2021 SSA UK Annual Industry report and do not include VAT – individual storage facilities will differ in price.
How much space will you need?
To assist you in calculating what your storage costs may averagely be depending on the size of your home, the approximate square-footage requirements for storing the contents of differing-sized houses are as follows:
The typical average square footage of houses by the number of bedrooms is:
Two-bedroom house: 100–125 sq. ft.
Three-bedroom house: 125–150 sq. ft.
Four-bedroom house: 150–175 sq. ft.
These estimates give you a starting point for estimating your storage costs, but of course, you must contact a facility for a more accurate quotation.
What does the price of self-storage include?
Each facility may range in what is covered in their storage prices, but most include:
The sole use of your self-storage unit
On-site staff to accept any deliveries
The use of trolleys and forklifts for loading/unloading
24/7 CCTV
Most storage facilities also feature undercover loading bays and free parking.
Deposit
Most facilities will charge an average of half of your agreed month's rent as a deposit.
That said, some facilities attract customers by waiving the need for a deposit – this can be a great saving and make it easier to get into storage, just make sure that the facility still meets all of your requirements before jumping into it because of the deal.
Important considerations when choosing a storage facility
Security
When thinking of storing our belongings, the thought of having them stolen or damaged isn't far from our minds. As you shop around for the right storage facility, look out for those that feature sophisticated security systems, including in-person surveillance, commercial keyless door locks [ideally 24/7 keyless access control that supports encrypted credential methods, such as Bluetooth and Radio-Frequency Identification (RFID)]. Make sure that there is an adequate amount of video surveillance cameras that don't have any blind spots where your storage unit is located.
Also, ask whether the security system uses cloud-based technologies, as these can support instant notifications being sent to your mobile in the event of a security breach.
Size
The facility of choice will help you choose the right-sized storage unit for your belongings, but it's important to carefully inventory larger items and check them against the unit's dimensions. Not only is the square footage important, but check the height and width of the unit against any of your larger pieces to ensure everything will fit.
Accessibility
Many storage facilities are self-service and allow for 24/7 access to your unit, but not all do. Some offer a full-service option, meaning that access to your belongings might be limited to the hours that staff are present. If round-the-clock access is important to you, make sure you check this before signing up.
Length of time
Most facilities operate their unit rentals every month. Although some may offer shorter terms, most require a minimum rental period, so double-check this if you're only looking for short-term storage.
Other related expenses
Packaging materials
Unless you want to visit your local DIY and appliance stores and rummage for boxes, you'll need to factor in the cost of packaging materials. Many storage facilities offer packaging materials at a reasonable price; otherwise, check out Amazon, Facebook Marketplace, or DIY stores for supplies. Don't forget to include bubble wrap, paper sheets, packaging tape and any other items needed – and try improvising with clothing, cushions, and bedsheets for added padding. 
Insurance
It's imperative to insure your furniture and other belongings when in storage (just as you should when they are in your home). Most facilities offer in-house insurance options, and any reputable one insists that you take out a policy to insure your things, whether through them or from an external provider.
Locks
Many storage facilities require you to purchase and use your own padlock for your individual unit. Some may offer a range for sale, while others will expect you to provide your own. Of course, you will want a lock that offers great security, such as a heavy-duty combination lock, so factor this into your budget as well.
Final thoughts
While many storage facilities will operate similarly, there are some differences, such as access times, level of security, and of course, the size and prices of the storage itself. In most cases, using a storage unit means trusting a facility with all your worldly possessions, so it's vital to do your homework and find the best one; in a good location with reasonable prices and solid security measures.