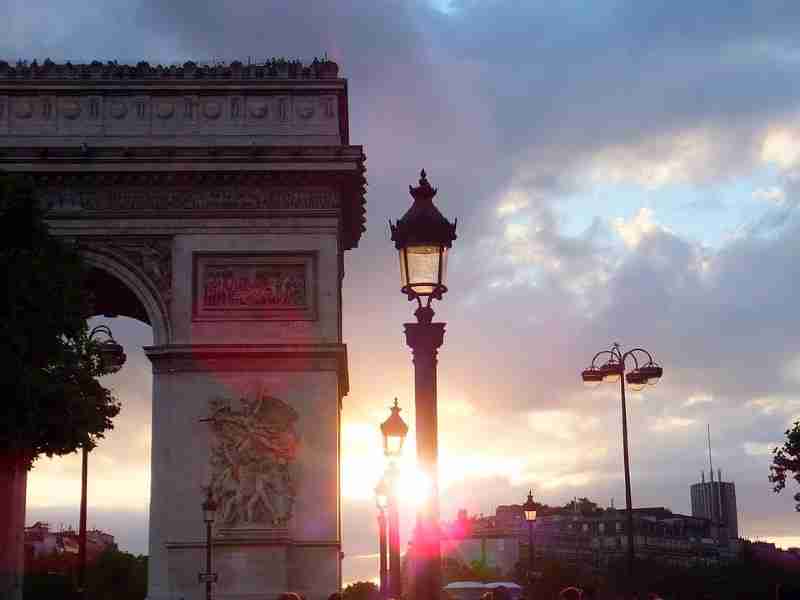 Photo by Les Anderson on Unsplash
- Moving to Paris?
- Mais, oui!
Brits moving to France from the UK is common in recent years. With numbers somewhere between 170,000 and 400,000, the preferred destinations are Paris and the southern rural areas in the country.


If you are planning to move to France for a long or short time, then this is article is for you. We have crafted a thorough guide with the information you'll need to know before, during and after organising your international move.

Cost of Moving to France
The Brits who have decided to move to France must, first of all, research how much the cost of moving will be. You can, of course, try to find a way to reduce the moving costs. An international move would cost a lot more than a local move or a simple long-distance move, simply because there is a lot of shipping involved. But that doesn't mean you have to pay a fortune to move every single item you own. You can reduce the cost of moving by decluttering your belongings and taking only the most essential items.
Get rid of anything you haven't used in a year - clothes, appliances, cutlery, decorations, towels, books, etc.
Ask friends/family for packing materials and boxes.
Ask local shops about free boxes.
Don't move appliances and furniture. Instead look for a place to live in that is fully or partially furnished.
Prepare all important documentation in advance. Express orders would cost you a lot more than regular ones.
Cost of living in France vs the UK

A poll from Expatistan.com, says that London is approximately 19% more expensive than Paris, in six major categories. Clothing expenses are the same in the two capitals, but the food is more expensive in Paris than in London. And for the other four categories - Transportation, Housing, Personal care, and Entertainment - London is more expensive.
However, the difference can be felt the most with the housing costs. Housing costs in the UK are reportedly 56% higher than the average for the EU, and in France, it is only around 13% higher. With the most expensive rents and house prices being at and near the centre of Paris and London.

Cost of Living in France per Month

The monthly expenses depend on your own lifestyle and how and where you choose to spend your money. But there are some expenses that you cannot change.
Knowing the costs for the essentials (rent, utilities, transportation, food, etc) is pivotal to choosing whether you should move at all, or in which part to move to.
*Please note that all of the below-listed costs are average. They may vary depending on the number of people in your family and where you live.

The Cost of Renting in France

As we said, it depends on where you live and on the size of the property.
Here are a couple of examples of rent cost so you can have an idea:

| Area | One-bed (City centre) | Three-bed (City centre) |
| --- | --- | --- |
| Paris | €1,100 / £933.63 | €2,400 / £2037.00 |
| Nice | €770 / £653.54 | €1,300 / £1103.38 |
| Lyon | €670 / £568.66 | €1,250 / £1060.94 |
| Marseilles | €540 / £458.32 | €1,000 / £848.75 |
| France (Average) | €660 / £560.17 | €1,250 / £1060.94 |

*We have used the EUR/GBP exchange rate as of Dec. 2019. Please note that the rate changes daily.
Utilities will cost you somewhere between €120 and €160 on average. This rough estimate is for an 85 m2, for a family with one child. Again it depends on the size of the property and the number of people living in it.
Living on your own in a smaller apartment might come to a total of around €80 for utilities a month.
According to Expatistan.com, the food in Paris is 19% more expensive than in London.
Food prices:

| Product | Price in Paris | Price in London | Unit |
| --- | --- | --- | --- |
| Bread | €1.37 / £1.14 | £1.20 | 1 piece |
| Milk | €0.96 / £0.80 | £0.86 | per litre |
| Eggs | €2.59 / £2.16 | £2.26 | carton of 10 |
| Chicken | €9.15 / £7.64 | £8 | per kg |
| Cappuccino | €2.78/ £2.35 | £2.50 | 1 cup |
| Apples | €2.72 / £2.27 | £2.00 | 1 kg |
| Cheese | €6 / £5.01 | £4.51 | 0.500gr |

Transportation in London is notably more expensive than most cities in the EU. And Paris is no exception.
The monthly card for public transport in London is £141, whereas in Paris it's only €75 or £64.
Taxis are also more expensive in London, unlike gas which is actually a bit cheaper than in Paris.

How to Move to France From the UK?

You need to research whether you'll need a visa. While the UK is in the EU, moving internationally will be easier.
Visas depend on the reason and length of your stay in the country. It's important to research the types of visas and work permits required for living in France. They will be needed for you and any accompanying family members that move with you, the information can be a lot to digest, and you should start looking up information early on.
You can check if you need a visa by correctly filling your information here.

Moving to France From England

Learn the language. Or at least get a dictionary and learn the basic phrases and greetings, and then keep on learning it. Even if you speak it poorly, your efforts will be appreciated.
If you don't have a job offer already, prepare your CV (the French style), a cover letter, work permit (if necessary) - all translated in French.
While both the UK and France are in the EU, work permits are not required for all types of jobs, nor for every single expat. There are conditions under which you are not obligated to get an employment permit. Such fields are sporting, cultural, artistic, and scientific, modelling, personal service workers. Also if your spouse is a French citizen, or are a close family member of a French employee with a residence permit.

Temporary and Permanent Residency Permits

Britons do not require a visa to travel from England to France. All you need is a valid identification card or passport. If you wish to move permanently, you might want to research the field in which you plan to find a job and find out if you'll need a work permit.
This means that while both countries are in the EU, you are allowed to travel, work, live and retire without the need of a visa. But if you are moving permanently, you can get a Carte de Sejour.
More info: https://www.service-public.fr/particuliers/vosdroits/N110
* You can apply for residency if you desire to become a French citizen.
You will have two months after you've moved to apply for Carte de Séjour when planning on long residency. There are different types of CDS, so you'll have to find out which one is suitable for you and your family.
*DISCLAIMER: Please note that this article was written before Brexit. There might be changes to the rules and laws depending on how the UK leaves the EU (with or without a deal).

Moving to France from the UK: Healthcare

You and your family members do not need any special or additional vaccines to move to France. Everyone who meets the residency requirements, even expats in France can benefit from the public healthcare system and insurance scheme in France.
To take advantage of the healthcare benefits, you must have lived in France for at least 3 months and plan to stay for at least 3 more. So if you've just moved and needed medical help, you will probably have to have private health insurance.
Source: https://www.internations.org/go/moving-to-france/healthcare

Moving to France From the UK Checklist
Organise important documents. Check when your ID and driver licence expires. Prepare medical records. Inform your local council of moving and cancel your council tax.
Research the cost of living in France in detail and make a rough calculation of how much you're going to need for the move. And if you'll be able to afford to live there.
Learn about French culture and learn some basic conversational phrases.
Decide on a moving date and arrange everything in both properties
Find a place to live in. Rent or buy a place.
If you have a child, research kindergartens and schools.
If you'll be working in France, organise work papers, set up a bank account.
Organise your move - boxes, packing, removals company, tickets, shipping, everything.
What to Do When You Get to France?
Always carry cash on your person. Especially if you're going to a local market.
When you can, buy local. Preferably always. Local markets are a big thing in France and are where you can get a good deal and fresh produce.
We said it above, but here it is again - Learn the language. You'll make a good impression on the French and in time it will get easier.
Always be polite and say 'Bonjour', 'Au revoir', 'Merci'.
Bonus tip: You must learn the names of traditional French dishes. You don't want to go to a restaurant and get yourself in an embarrassing situation, do you? There won't be an explanation in English at every restaurant or have a French buddy explain to you what every dish means.
If you're moving to Paris, get your nicest shoes to walk down Champs-Elysees, and comfortable shoes to get to the top of the Eiffel Tower, you'll need them if you decide to use the stairs!

Ready to move to France?
Check out our international removals service.

Resources:
https://en.wikipedia.org/wiki/British_migration_to_France
https://france-visas.gouv.fr/en_US/web/france-visas/faq
https://www.expatistan.com/cost-of-living/comparison/london/paris