Updated: 16.10.2019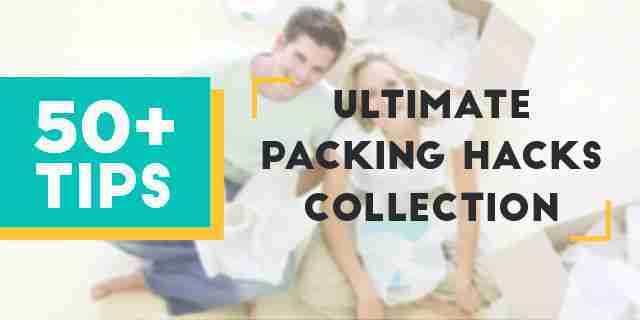 How to Pack Your House Items Efficiently?
Whether you're looking for packing tips as part of your meticulous moving research, which you've started months ahead, or it's a last-minute chance to rest your back because you decided you could do it all on your own, below, you will find the best packing tips on how to prepare the entire house for the move. So, take a moment from fiddling with the bubble wrap and have a look at our list of packing tips, detailed for each room.
As a general rule, before you start packing your house items, you should take the time to declutter your home and your life. This is especially true when you're downsizing to a smaller home, whether a high-end park home or just a smaller property.
Then you should make sure you have scheduled your relocation for the best day of the week.
Else, you will have packed everything perfectly, but this is not a guarantee for a trouble less move.
Packing categories in this article:
Packing the Kitchen
How to Pack Plates?
To safely transport your plates and other dinnerware, you can buy special dish packing kits. They are designed to protect the most fragile and breakable items and are specially built with a double layer of corrugated cardboard. The double layering and extra-thick walls of the dish box ensure the protection of the items inside but also increase the cost of the box itself.
So, make sure you are only packing the correct items inside this box. If it is not a delicate item, you shouldn't waste the space of a dish box for it.
If you're using regular boxes to pack your plates, you will have to go big on the packing paper. There's no such thing as too much. Fill the bottom of the box with a layer of crumpled up packing paper or newspaper. Next, wrap each item individually with a sheet of packing paper.
Plates and bowls should be loaded into the box in rows on their side. Do not lay them flat. Once you have filled one layer of the box, put down another layer of crumpled newsprint on top of the layer before you begin loading the next layer of the box.
How to Pack Glasses and Cups?
The best way to protect your glasses, mugs, and cups during the transportation is to use a divided box, the kind used to transport bottles. Alternatively, you can use a small to medium box, which you will need to line with bubble wrap and top with a sheet of packing paper or newsprint. If you're not using a divided box, you'll find the so-called "nesting" of glasses to be the safest and most space-saving technique.
Start by wrapping each glass or cup in two sheets of pre-cut newsprint, lining the inside before you stack the wrapped cups or glasses into each other. Depending on their size and weight, you can nest about three or four glasses. Place each stack of glasses diagonally in the box, and holding the corner of the newsprint closest to you, wrap it another two sheets of newsprint.
If you want extra protection, wrap the stack in a sheet of bubble wrap. Tuck the newsprint and secure the ends of the bubble wrap. The box shouldn't be too packed but you need to fill the empty space with paper, newsprint or bubble wrap so that glasses can't shift around.
How to Pack Pots and Pans?
Pots and pans are durable items, so you don't need to waste space in dish boxes for them. Use a standard medium carton box, instead. Tape the bottom of the box and line it with a two-inch layer of gently crumpled tissue paper or newsprint.
As with the glasses, nesting works perfectly for packing pots and pans. Sort the pans by size -- a large, medium, and small-sized pot so that they can be nested inside each other. Cover the opening of the largest pot with a large piece of newsprint over the opening, then nest the smaller sized pot within the first, until you have all pans nestled together.
Wrap each stack of pans with a large piece of newsprint and seal it with tape. Fill the box with stacks of pans until the box is full or reached a reasonable weight.
If you have extra space in the box, use it for cooking sheets, rubber-banded cooking utensils or cutting boards. Place them along the sides or bottom of the box.
How to Pack the Pantry?
By the time you've got to the packing of your kitchen, you should have already had the pantry cleaned and sorted. Move only the necessary items. It's always easier to start with the smaller items and work your way to the larger ones.
Check how much the items weigh and calculate the cost of moving. Some items, like tinned food, for example, are not worth moving if you've hired a removals company. If it's a long-distance move, perishables and frozen goods need to go not to your new home but to friends, charity or the waste bin.
If you want to transport open packages, tape them well to prevent spillages.
Pack canned goods first in a sturdy box. Make sure the box is not too heavy. You can put dry, boxed items on top of cans and jars, or in their own box.
How to Pack Bottles?
One of the first items you can pack from the kitchen is wine and alcohol bottles. Again, check how much it would cost to transport them and if the cost for the move exceeds their price, it's better to offer them to friends. Pack all the bottles you don't plan on opening between packing and moving day. You can also pack ahead of the move food items in sealed glass bottles, like oils and vinegar.
How to Pack Food?
If you're moving to a one-person household that eats out a lot, packing your food shouldn't be a problem. For bigger families who do weekly groceries and stock up on essentials, it might be trickier. Basically, it would be best if you had your fridge and cupboards as empty as possible for the day of your move. So, before you pack any food, you must go through your stocks and remove all expired items.
Pack only items in sealed boxes, cans or bottles.
Get rid of leftovers, open bags of frozen goods, defrosted meats, and opened bottles and jars.
Don't pack eggs, cold cuts, opened bags of flour, sugar, and opened beverage bottles.
Pack sealed chips, cookies, cake in tote bags.
How to Pack Drawers and Shelves?
Keyword when packing your kitchen drawers and shelves: declutter. Go through all the messy drawers containing various knick-knacks. Get rid of useless items, following one rule of thumb: if you haven't used it in the last 6 months, don't move it.
Set aside one set of cutlery per family member for dinner at your new home. Keep these in your essentials box and pack all the rest.
Pack cutlery in bundles of around four pieces, wrapping each bundle in packing paper. Use a small box to stack the bundles.
If you're packing silverware but don't have a silverware case, use acid-free tissue paper. Stack the items on top of each other, making sure the sharp edges of knives and forks are facing the same direction.
How to Pack Appliances?
The safest way for appliances and furniture transport is in their original boxes and packing materials. If you do not have them, you can use sturdy medium-sized boxes that will support the weight of your electrical appliances.
Disassemble larger kitchen appliances and pack the detached components separately.
Make sure to defrost the freezer at least one day before moving.
Before you pack the appliances, it's best to first clean and dry each one of them.
Pack fragile items individually and wrap them with bubble wrap or newspapers.
Heavier items should go first in the box and smaller items can be placed on top. Fill the extra space with crumpled newspaper.
If you can find the manual of each appliance, tape it to the box so you can make reassembling simpler when it's time to unpack. If you find it difficult to reassemble your furniture, don't hesitate to book a furniture assembly service.
* Keep in mind that if you're planning a European removal, you should sell large appliances or give them to friends and family. It's pointless to move them to another country and will cost you a lot.
Pack Items That Are Not Frequently Used
It's best to pack fragile and decorative items like vases inside a dish box. Make sure they're very well padded and pack them upright. Use wadded packing paper or newsprint to fill any extra space between items. Mark the boxes as "Fragile.". We've given the same advice in our guide on how to pack for a long-distance move.
Prepare an Essentials Box
Before every move, you need to prepare an essentials box which will contain all the items you'll need for your last two days in your current home and the first two days in your new home. These might be dishes, cutlery, food items, appliances like a coffee maker or a toaster, dishtowel, dishcloth, cleaner, soap, etc. Remember: this box is for essential items only. Anything you don't plan on using right before or after the move should not occupy space in it.
Packing the Living Room

How to Pack Lamps?
The best way to pack lamps for safe transportation is to disassemble the lamp and pack the base and the shade separately.
Use a sturdy box for the shade and line it with paper or newsprint. The box has to be at least two inches larger than the shade. To prevent damage to the shade from moving around in the box, make sure it's padded with a large amount of crumpled packing paper. You may want to use the extra space in the box for extra items but you shouldn't!
The lamp base has to be wrapped carefully with paper pads and placed upright in a carton of appropriate size lined and filled with crumpled packing paper.
How to Pack Mirrors and Paintings?
For large framed items, such as mirrors, paintings, glass or marble tops, you may feel most comfortable hiring professional movers who will also provide insurance for artwork. If you decide to do it on your own, you will need to get a picture box unless the framed items are small. Prepare the box by putting packing paper or wadded newsprint on the bottom.
Put masking tape in the shape of an "X" across the front glass surface of the mirror or painting to keep the pieces in place in case the glass cracks or breaks. Wrap the piece in newsprint or bubble wrap and tape it. Place the item in the box and fill in the extra spaces with lightly wadded newsprint paper if it shifts in the box.
For larger mirrors and paintings, you may need two boxes. In this case, adjust the second box on top of the other by telescoping them together. Fill spaces with packing paper or wadded newsprint paper.
If the size of the framed items allows, you may use the space in the box to group two pictures or mirrors in each picture box. Place the glass sides to face each other, and fill the extra space between them with some newsprint. We advise that valuable mirrors and objet d'art be boxed separately.
Don't forget to mark the box as fragile and paint an arrow indicating the upright position.
How to Pack Electronics?
When packing electronic items, such as computers, TVs, and monitors, it's always safest to use their original boxes and pack or purchase special boxes from a moving company. If you can't obtain any of those, opt for a simple, sturdy box.
Make sure there are no media (DVDs, CDs, etc.) in the items.
Unplug the equipment you're packing and remove cords and wires from the main device.
Secure the cords with twist ties, following their natural curve and label them appropriately.
Use a special towel to clean your electronics of dust.
Pad the bottom of the box with anti-static packing material and wrap each item with anti-static packing material or soft cloths. Keep in mind that packing peanuts can conduct electricity and damage electronics. Don't use newspaper as it can scratch screens.
Pad the bottom and the sides to prevent any rattling or shifting during the move. Line the top to create a buffer.
Place the largest electronic item in the box first. Place smaller electronic items on top and continue to fill empty spaces with anti-static packing material.
Seal the box and label it "FRAGILE", marking also the upright position with an arrow.
How to Pack Rugs?
Consider having the rugs professionally cleaned before moving. Roll each rug and secure it with plastic ties. Ask a moving company for plastic bags which will be large enough to fit the rugs. For pricey oriental rugs, you should hire an insured moving company.
How to Pack Coffee and End Tables?
Secure any doors or drawers so they don't open during transportation. Protect the corners with cardboard protectors. Your moving company can provide you with those. Available from the moving company or rental agency.
How to Pack Upholstered Furniture?
To prevent any staining on your upholstered furniture, such as couches, chairs, ottomans and other upholstered items, the moving company will shrink-wrap them for the move.
Pack unattached items, such as cushions and pillows separately in a box.
For larger items of furniture, it's best to have them disassembled. Keep the screws and other small items in a clear bag taped to the item so you can use them after the move. If you can remove furniture legs, do. Wrap them separately in blank newsprint, and transport them in a labelled box of proper size.
Protect furniture corners with bubble wrap and cardboard corner protectors. Ask a removals company for furniture pads to prevent scratches and rips.
How to Pack Books?
To protect your books during the move, purchase book cartons.
Books of the same size can be grouped together, laid flat or with the spine touching the bottom of the carton. You can also pack them upright, like on a shelf but it's not a good idea to pack them with the spine facing upward, as glue can break away from the binder.
If you're packing books of various sizes, lay them on their side and place the largest at the bottom and the smaller on top. Double tape the bottom of the box and make sure it can support the weight of the books -- around 30 pounds. Fill any extra space with crumpled paper or newsprint.
Packing Your Bathroom
Sort your bathroom first and get rid of all the items you won't need, such as expired medicine and cosmetics, not working appliances, old linens and towels.
Set aside medicine and products you use daily and pack them in small plastic boxes to keep handy for the days before and after the move.
Keep liquids in leak-proof containers and wrap any open bottles in plastic bags.
Pack neatly folded towels, linens and washcloths into sturdy plastic bags.
You can also use them to wrap fragile items and line the boxes containing appliances and accessories, or toiletries.
Pack toiletries in small boxes and brushes, hair accessories, and makeup in small toiletry bags or plastic boxes.
Pack the top of boxes with lighter items like towels, rugs, or shower curtains.
Packing the Bedroom
How to Pack Clothes?
Go through your wardrobe and drawers and select only the clothes you actually wear. Donate the ones that have only been occupying space.
Ask your removals company for wardrobe boxes if you have clothes that shouldn't wrinkle. A wardrobe box can hold about two feet of closet space.
Other clothes you have on hangers but which won't suffer from a few wrinkles can be packed in large plastic bags -- bag about 10 - 12 items as they are still on the hangers and wrap the bag with tape to make a package, leaving the hangers out of the bag.
Clothes from drawers that are already folded can be packed into medium-sized boxes. Label appropriately and make sure the boxes aren't too heavy to move.
If you wish to save money on moving boxes and use suitcases, make sure to pack suitcases efficiently and maximise your space.
Pack Your Shoes?
Separate the shoes into categories, like sandals, boots, trainers, high-heels, etc. Sell or donate the ones you no longer wear.
Pack only clean and dry shoes. Fill them with crumpled paper to keep their shape.
It's best to place them in their original boxes before packing them into medium-sized moving boxes. If you don't have the original boxes, use a sheet of packing paper, place one pair on one of the ends of the sheet and roll it until the shoe is completely wrapped in packing paper, then add the second shoe and continue wrapping until you have made a bundle of the pair. Wrap each boot separately in the paper.
Fill the box with the heaviest shoes at the bottom. Don't put anything heavy on top of the shoes. If you need more specific information about shoes packing, check our complete guide on how to pack shoes when moving.
How to Pack Jewellery?
Jewellery should be packed in a secured box and transported with other valuables in a box you can take during the move and carry with you. Moving companies transport valuables only with enough insurance. Or check out some out-of-the-box ideas on how to pack your jewellery here.
Pack Bedding, Linens and Pillow
Pack linens, sheets, and pillows in clear plastic bags to easily tell which bag belongs in which room during unpacking. Seal the bags and use them to fill spaces in the moving van.
How to Pack the Beds?
Strip the bed of all sheets and bedding and pack them separately.
Wrap the mattress in a mattress bag and a box for the ultimate protection during the move. You can buy one from your moving company. Alternatively, you can use old sheets and blankets and tape them in place.
Disassembling the bed will depend on its size and type. The headboard is usually screwed to the mainframe and comes apart fairly easily. The box spring and the bed frame could be trickier but it all depends on the specific type and dimensions of your bed.
Wrap the disassembled larger components with protective covers and bubble wrap. Wrap the smaller bed parts with packing paper or bubble wrap and place them in boxes. Keep tiny parts such as bolts, nuts, and screws, in a sealable plastic bag. Tape it to one of the boxes with the other bed parts.
Check out this step-by-step guide for folding fitted sheets.
How to Pack Dressers
It's best to move the dresser with the drawers inside. If the piece is solid wood and too heavy to carry, remove the drawers. It should be light enough for two people to carry and move.
Remove the mirror and pack items on top of the dresser in a small box.
Pack liquids with the bathroom box.
If you're moving the dressers with drawers inside, clear all the heavy and small items which may shift during the move.
If you chose to move the dresser with drawers in, wrap the entire piece of furniture with paper padding or moving blankets and secure it with tape or plastic wrap.
If you've removed the drawers, be sure the openings are accessible when you load them into the van. Once you've placed them back into the dresser, wrap the entire item with paper padding or furniture pads and secure it with tape or plastic stretch wrap. Do not place tape directly on the wood.
Pro Tip:
You can use our
moving checklist
to be more organised before, during and after the moving process.
How to Pack Drapes, Curtains and Blinds?
If you want to prevent drapes, curtains and blinds from wrinkles or getting tangled, use a wardrobe box to transport them. You can hang them beside the clothes from your wardrobe. If you won't be using a wardrobe box, fold the drapery carefully, wrap it in blank paper and pack them in a medium-sized box. It's best to have the curtains and blinds cleaned after the move.
Check our Pack up bedroom post for even more tips!
Don't Forget About Sustainability While Moving and Packing!
If you are moving house, certainly there is no better time to reevaluate all of your belongings and decide what you can let go of and what to take with you to the new destination. In most cases, there will be much more to get rid of, rather than transporting to your new home. No matter what, taking the time to do it right is better for the environment.
Strong Move is always for eco-friendly moving and especially zero-waste moving. We know that such a move requires some serious preparation and planning to the smallest detail. Therefore, we would like to share this great article on how to seriously lessen your carbon footprint when you move.
Final words
With the help of our extensive list of packing tips, moving won't be as daunting as usually perceived. For any other advice or help with packing, unpacking or moving, contact your trusty London movers at Strong Move! And remember, moving is easy if you:
Don't leave it until the last minute;
Don't overload the box;
Label everything carefully;
Hire the right removals company!
Need packing materials delivered?
You can check out our packing materials and get them delivered per your request.