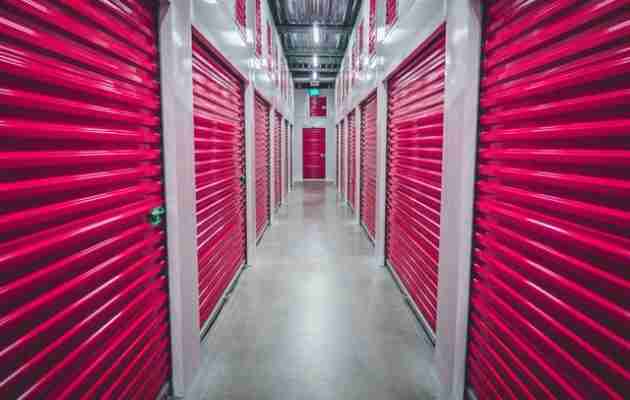 At Strong Move, we know that space is one of those things that always seems to miss.
Even when we live in a large house or apartment, we still find ourselves longing for a little extra space, be it for a box of old memories or a gizmo device we don't use regularly.
One solution to this perpetual problem is self-storage, a convenient and secure way for people and businesses to store belongings both short and long term. Typically located in a secure and monitored facility, self-storage also reassures you that your items are safe.
But what is self storage exactly?
Let's explore this service in greater detail and look at its benefits, types, and features.
Benefits of Self Storage
Self-storage provides quite a few benefits to its users.
The major benefit of a self-storage unit is that you can declutter your home by having items you use less regularly out of your way;
They're also a great temporary solution when you're moving into a new house and need additional space during the transition period.
Most self-storage facilities allow you to access your items whenever you need them and as often as you want. This makes it ideal for individuals or organisations that need to access items upon demand;
Self-storage also provides 24/7 surveillance and security systems to ensure your properties are safe from theft or damage. The security protocols and procedures of self-storage facilities are usually very stringent. Your items will be much safer than in an independent garage or storage unit;
Typically, self-storage units also offer climate control solutions that can protect your items from damage caused by extreme temperatures or humidity levels;
Businesses can also benefit from using self-storage facilities as a base to store extra files, supplies, or equipment. This can help you save on office rental costs and tidy your workplace up.
Types of Self Storage
Drive Up storage units are ideal for those with large items to store, as these units can be accessed directly from your vehicle. They are usually located on the ground level and are perfect for storing items such as furniture, equipment, or large boxes.
Climate-controlled storage provides extra protection from environmental factors that could damage sensitive items. These are very among homeowners who want to protect the things they store from temperature and humidity fluctuations.
24-Hour storage gives users non-stop access to their belongings at any time of day or night. They are very helpful for those who need to access their stored items during off-hours. These facilities provide 24/7 surveillance, advanced access control, and video security measures.
Student storage is an excellent solution for college students who need to store their items and belongings during the summer or take a break from school. It gives users an affordable and secure option for storing clothing, books, and electronics. These facilities are usually located near college campuses.
Portable container storage units are ideal for users who need to move items frequently and need extra space on a temporary basis. Depending on the user's needs, these units can be transported and stored in different locations.
Outdoor storage units are a great way to store items that don't need climate control measures, such as outdoor furniture, gardening tools, or patio supplies.
Wine storage facilities are built by taking into account the conditions required by wine to remain flavorful over the years. These units offer advanced temperature control solutions and feature strict security measures to preserve your wine supply from attempted burglaries.
Vehicle storage units provide a secure way to park your car, motorbike or other vehicles when you are not using them, without worrying about leaving them outside and exposed to either theft or bad weather conditions.
Reasons to Use Self Storage
There are numerous reasons on using a self-storage solution to preserve your belongings, and other properties may be a great idea.
Here are some of them.
Provides more space at home
Keeps your belongings safe when you travel.
Stores your stuff temporarily when moving or renovating your home.
Stores items that you only use during the winter (e.g. ski equipment) or during the summer (e.g. surfboard).
Stores items you only use for irregular work activities (e.g. photography equipment, musical instruments).
Keeps your business inventory or extra office files and supplies.
Preserves documents and other important items safely in a secure and regulated environment.
Preserves valuable items such as jewellery, antiques, or artwork
Stores your vehicle when it's not in use.
What to Look for in a Storage Facility
Location is undoubtedly an important aspect when choosing a self-storage facility. Ideally, your self-storage unit should be close enough to your home or business so that you can access your items quickly anytime you need them.
Security is another crucial aspect. The best self-storage facilities offer 24/7 surveillance and feature a number of technologies, including access control systems, pan tilt zoom cameras, video analytics solutions and smart alarm systems.
Climate control is another great feature to look for in a self-storage unit, especially if you are storing sensitive items that need to be protected from temperature and humidity fluctuations.
An uncomplicated rental agreement is also a factor you should consider. Look for a self-storage facility that offers a transparent and flexible rental contract.
Finally, helpful customer service is essential to quickly solve any issue or answer any queries you may have.
What You Are Allowed to Store
When renting a self-storage unit, you must check what objects you are allowed to store and what not. Usually, there shouldn't be any restrictions on storing the following items.
Clothing;
Books and documents;
Furniture;
Electronics;
Musical instruments;
Outdoor gear;
Collectables;
Jewellery;
Sporting equipment;
Antiques.
What You Are Not Allowed to Sore
However, there are typically certain items that the storage company won't allow its customers to store. These may change from company to company. However, storing the following items is typically not permitted.
Flammable and combustible items (e.g., gasoline, kerosene, fireworks, and propane tanks);
Toxic materials (e.g. pesticides, chemicals, and paint);
Any type of hazardous waste materials;
Unlicensed electrical goods;
Firearms and ammunition;
Stolen goods and illegally detained objects;
Drugs;
Food or perishable items;
Animals and plants;
Human remains;
If you have doubts about what can and can't be stored in your self-storage facility, feel free to contact customer service and ask them for more detailed information.
FAQs & Self Storage:
How much does it cost to rent a self-storage unit?
The cost can vary depending on many factors, including the size of the unit, the location, and the features it offers. As a general rule, the larger the unit and the more features it has (e.g. climate control), the higher the cost will be. Self-storage units can cost as little as £10/week, up to over £200/month.
Do I need to provide my own lock for the unit?
Most self-storage facilities require you to use a lock they provide or even advanced access control measures. However, some facilities require users to buy and use their own locks.
Is there a minimum rental period for self-storage units?
Most self-storage units require a minimum rental period, typically one month. However, this period can vary from provider to provider, so check the minimum duration before signing the rental agreement.
Is insurance available for items stored in self-storage facilities?
Most self-storage facilities offer insurance policies to cover the content of your unit. This usually includes coverage for theft, fire and water damage. It's essential to read the details of any insurance policy you are considering so that you know what is covered and what isn't.