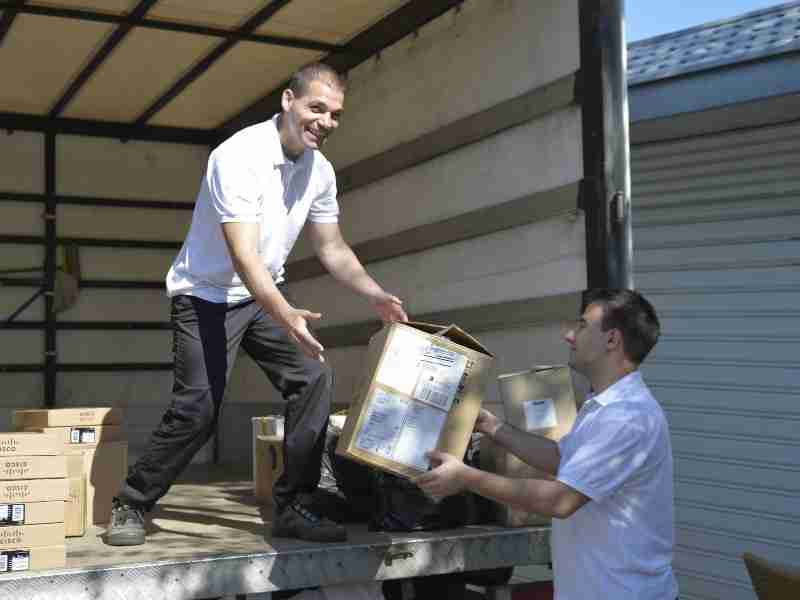 Starting a man and van business turns out to be a perfect opportunity for UK citizens who want to start their own career quick and make a stable profit out of it.
There is a solid demand for this service that is constantly increasing for many reasons:
Most people in the UK live on rent and tenants often have to change their accommodation which goes along with moving everything from the old place to the new destination

The population in the UK increases constantly and so does the demand for this type of services.

Man and van businesses do not require any special qualification or skills to be run professionally. A good investment and good business-oriented thinking will take you far enough without too many worries.

Man and van services are very often more suitable than a complete home removals job.

This service is also a significantly cheaper alternative to the home removals deals, usually, a man with a transit or a maximum of 3 men and a Luton van are able to finish any job
Plan Some Things in Advance
Before you start a man and van business, make sure this is the business you want to make investments in. There are a few things you have to take care of first. When you're done with them, you can proceed to registration.
Pick up a range of work (Where your business will operate)
This is a crucial step when starting this kind of business. Even though there is an opportunity in breaking through in this field, you have to do it very cleverly.
Start in a city you know
The chances of getting recognized are easier at a place where you actually know someone. Whatever you need help with, there will always be someone who'll give you a hand.
Don't expand too much at first
Start on a smaller scale first. When you start making a solid profit, expand but don't rush it. The costs of going long distances to get the job done are often very high, which means a bigger quote for your customers, which turns into a problem.

 

European removals are more difficult to plan and do. A brand new business with few employees shouldn't undertake such big jobs. So make sure you familiar enough with the niche and have enough manpower to get such complicated removals jobs done.

Do a Market Research
Don't cut costs from important steps like this one. Agencies will charge you for thorough marketing research but will give you data that is pure gold.

If the competition is too high in a particular area, better skip running your business there. Otherwise, you risk failing pretty quickly.
Register Your Business
When you're done with the research and preparation, you can register your business in the UK. Basically, you have 3 options of registration, and each has specific responsibilities, which have to be read and understood in perfect detail.
Registering as a sole trader
This is the easiest and fastest type of business registration. The drawback is that the business owner is personally responsible for any debt related to the registered business.
You can keep all the profit from your business as long as you pay all taxes based on a percentage of the whole income. Some other core responsibilities of the sole trader are to:
keep detailed records of all sales and business-related expenses

Take care of sending a self-assessment

tax return each year
Pay income tax on the profits, as

already mentioned

Register a VAT number if yearly turnover is over £85 000 ( the one year period is not a fixed date, it starts from the moment of registration)

Include your business name in the official documentation
Read the full information on the official page of how to set up as a sole trader.
Start Your Own Business as a Limited Company
When you establish a limited company, all its finances are separated from your personal, but you have to take care of additional reporting and management director responsibilities such as:
Comply to the company rules, listed in the company's article of association

Keep track of all company records and reports on the changes

Pay the corporation taxes

Make a self-assessment registration
If you find it difficult to manage these tasks, you can always hire someone who'll do it for you, such as an accountant. Check more information about starting a limited company.
Start a Business with a Partnership
A partnership is when 2 or more people run a business. In addition to anything else being shared with your partner/s, such as profit and work responsibilities, the debt is also distributed equally between all business partners.
Here you can see what is required to register as a business partner.
Apply for Business Rates if You Have to Rent a Property
If you have to rent a property to run your business, you can apply for preferential business rates, or you can even avoid paying some taxes.
Apply for business rates relief and see if your property's rateable value is less than £15 000.
There is a chance to get relief if you use only one property for your business.
Get a Licence for Your Business
Having a licensed man and van service is something you can only make a profit from. We highly advise anyone interested in offering removals-related services to become a member of BAR (British Association of removers).
Domestic Moving Standard
This is the first and very well recognized standard in the UK regarding domestic removals jobs. Household furniture collection, for instance, can be booked as part of the job. If you are qualified by BAR for this, it means you are a top-quality furniture transport service provider in the field.
Commercial Moving Standard
This one is needed for the bigger companies who do removals jobs. You may start only as a removals company, but if the business goes well and you want to expand, sooner or later, you'll have to handle jobs from commercial clients.
When the time comes, you will want to be recognized as a licensed carrier which means obtaining the Commercial Moving Standard BS 8522, created by BAR after a partnership with BSI (British Standard Institution).
You can read the full information on the official website of BAR.
Get a Full Insurance for Your Business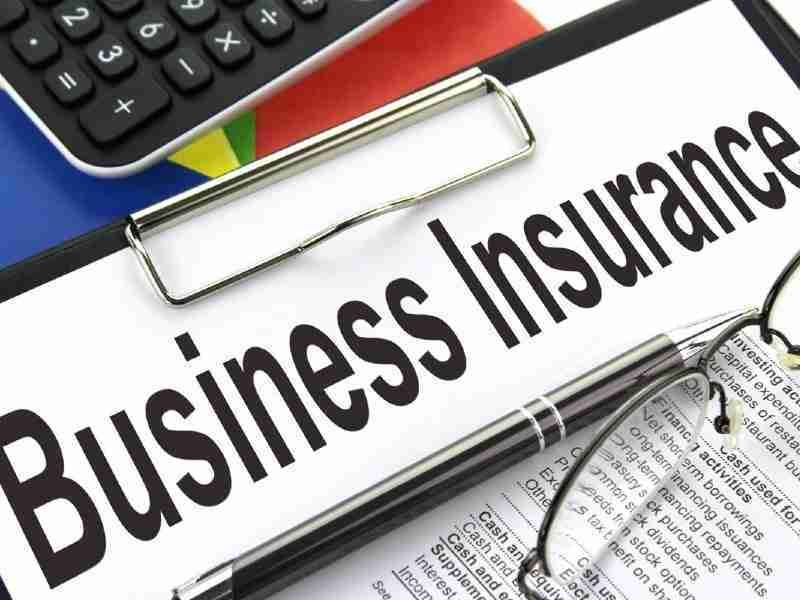 Insurance is a vital step of the whole business development process. Quality insurance protects you from unexpected costs but also serves as a trust factor. A custom would always prefer a fully insured company such as Strong Move rather than one that is not insured at all.
Make sure your insurance covers your customers when you are giving them a lift. Sometimes they will ask for this because they would like to accompany their belongings. Some often offer help with the loading/unloading process before/after the move.
Mandatory Types of Business Insurance
Employer's liability insurance

Commercial motor insurance
Optional Business Insurance
Commercial property insurance

Liability insurance
Check the full information about business insurance in the UK and decide which one fits best for your business.
Check All Your Responsibilities as an Employer
As a business owner, you'll certainly become an employer, which means more responsibilities. All taxes and responsibilities related to employment towards the employees are based on the contract both sides will sign. See all types of contracts available in the UK.
Develop a Marketing Strategy
Having a licensed and insured business doesn't give you a guarantee you'll have clients. You'll probably find it very hard to schedule jobs before the business becomes recognized in its area of operation.
The best way to deal with this is to make a business plan and strategy to help your prospects find you easier. Then they'll be able to turn into customers.
Make a Website
Not having a website of your business in 2017 is a guarantee of failure. Whenever people talk about you, use your services, or find additional information, they will use either their mobile device or desktop computer to find you online.
They will read about your services there, leave reviews, find contact details and more. It's essential to start with a website for your business, and here are the most important steps to do:
Buy a domain

Get a hosting

Make your website yourself or pay someone else to do it for you

Decide if you will want to make changes to it and if yes, consider using some of the most popular CMS software available such as WordPress, Joomla etc.

Go for a distinctive and unique website design, the more you differentiate from the competition, the better
Check this guide on how to make a website for more tips and information that will help you get started professionally.
Advertise Your Website
Having a website doesn't guarantee someone will visit it. Even if it gets traffic, if it's not from the right people, you will not achieve good, or even worse, any sales through online marketing.
Here are some working techniques that will help you establish yourself as a professional business.
Advertise Your Website in Local Directories
There are plenty of online business directories such as Yellow Pages or Yelp. People visit these websites when they need a service provider in their area, and if you are registered there, you will help businesses get found easier.
Optimize Your Website for Search Engines
What people usually do when they need service is to look for it using a search engine. Google is the biggest player globally, so you want your website to achieve higher rankings for particular keywords that users write in search engines.
Many digital marketing agencies offer SEO other types of digital marketing services such as paid search, email marketing and more. It's up to you if you would like to benefit from these, but doing so will help you overcome a lot of your competition.
Consider Becoming a Franchisee
This business model works very well for businesses like removals, man and van, cleaning and other domestic services. The best option for someone who has recently started a business is to become a franchisee of a local company in your city.
Going for this opportunity provides many benefits that may help you easily return your investments in a period of 1-3 years, depending on how professional you are. Some of the most common bonuses that established franchise companies offer are:
Professional training to you and your employees
Know-how about the particular service
Finding you lots of jobs which saves you money, effort and time spent on advertising
You can start immediately after you become a franchisee
Some will even give you a van for a fair price
Guaranteed number of jobs a day
Do Vehicle Branding for the Vans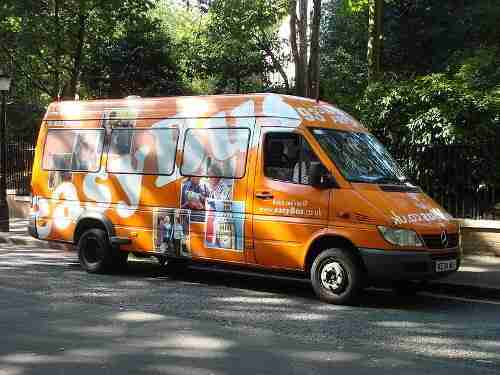 Branded vehicles are perfect for creating brand awareness and overall impressions at the right time and place without even planning it.
The only resource required is to pay once for painting the van with your logo, contact details and any other information you would like. Then, whenever the van is at a job or even parked somewhere, people will become aware of the existence of your company.
Make a Business Page on Facebook
Facebook offers a great opportunity for targeted advertising that drives plenty of impressions and awareness, which will help you establish your business as a trusted service provider.
Undoubtedly, if your business is on Facebook, you can only benefit from it. Apart from anything else, some users prefer to contact a company through their Facebook page instead of email or telephone.
Feature Before/After Photos of Completed Jobs on FB and Your Site
Users want to see the result of the man and van job. This gives them a clear insight into how well your business performs. Hard to believe, but very well designed and properly placed before/after photos can drive more sales as long as they are natural and are not scraped from another site or bought for the sole purpose of providing them. Always stick to uploading content that is 100% organic and comes from your own business.
Pay for a Press Releases When You Make a Big Improvement
All important steps you make as a businessman should be seen by society. Press releases are one of the best techniques to inform the public about upcoming events, changes or promotions.
You can also do press releases after something has been achieved. Presenting the positive results clearly will help you establish the business easier.