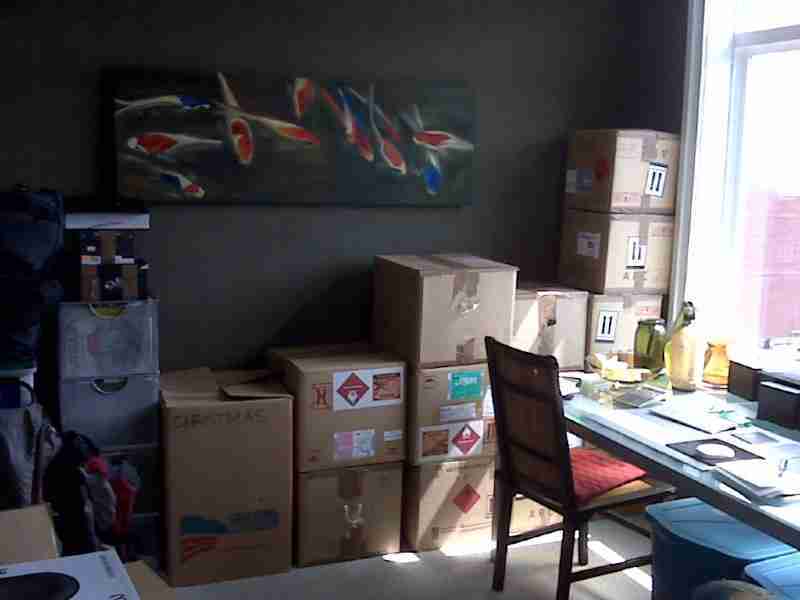 DIY Packing is a time-consuming option, but it will save you some expenses on your house removal if you are on a tight budget. You can achieve great results in the packing by yourself if you follow our tips and advice for the process. Follow our instructions closely to be sure that you packed everything perfectly. This will prevent your belongings from damage during the moving process. Not to mention that better packing leads to easier unpacking. Nevertheless, consider hiring experienced packers and movers if you aren't sure whether you will be able to pack all your belongings and furniture properly.
Packing Preparation
Start collecting packing materials as soon as you can. Check for old boxes on your work, ask your friends and neighbours or visit the nearest stores. They often throw away the boxes of the last arrived goods. Collect wrapping paper, packing tape, paper-knife, scissors, markers, sticky labels, bubble wrap. Avoid using old newspapers as wrapping paper, as they often leave ink stains on your items. You better use them for padding only.
Your packing is as good as your packing materials. Sometimes it's better to get specialized packing materials than the regular ones. They are stronger and can hold heavier goods, while they are much harder to damage. Even if your budget is tight – sometimes it's better to be safe than sorry. Usually, the removal companies offer packing materials too, so check out with your moving company.
General Packing Tips
If you decided to pack your stuff yourself, you must be ready when the mover's van arrives. That means that the day before the move you have to be ready with the last box. That excludes the first-day and essential boxes, which you will pack the same day your mover's van arrives. Here are some quick tips that will help you organize your packing better:
Never leave your packing for the last moment. You never know what will go wrong, and if your movers arrive and you are not ready – they will charge you extra (all removal companies are hourly based service);
Begin the packing with the stuff you'll need least. The garage and attic are great to start;
Pack room by room. Don't start with the next one before finishing the first. This will keep you organized;
Decide where exactly you will put the packed items and start from there;
After finishing a room sort the boxes by size. This will make easier the loading when the moving day comes;
Try to keep your boxes under 40-45 pounds;
Don't overstuff the boxes. There is a golden rule for that: heavier item – smaller box;
It's best to leave the fragile items to the movers. They will pack them professionally, reducing the risk of damage. Be sure to remove the paintings, mirrors and all wall items, as most of the movers will refuse to take them down.
Check out our tips on how to pack up the bedroom!
Packing techniques
Put a wrinkled newspaper on the bottom of the box. When filling the box leave some space at the top for more wrinkled newspapers. You can use also bubble wrap for that;
Wrap fragile and delicate items separately and arrange them in a box with bubble wrap or winkled paper for padding;
Always put the larger and heavier stuff at the bottom and the lighter, smaller or fragile ones;
Don't use boxes without top coverage. Also, always close the top cover with packing tape for better security of your belongings;
Label all the boxes. It's better to use colour labels for each room. This way it will be easier to manage everything once your movers arrive in your new home.
How to pack Electronic devices
The best way to pack electronics is to use their original packaging. Nothing fits better than that.
If you don't have the original packaging – find a sturdy box and enough bubble wrap or wrinkled paper to use for padding.
If you are not tech-savvy, when disassemble electronics with a lot of cords and cables, place coloured stickers on the cords. Put the same colour sticker on the place the cord should be connected. This will save you a lot of time when you reassemble your electronics.
Seal your boxes completely with packing tape.
Bonus Tip: Take a shot of your device with the cords connected to be easier for you afterwards
What NOT to pack for the movers
Keep your most valuable things with you during the move (jewellery, family valuables and documents). Also – most of the removal companies in London will reject to take some items, like guns, propane products, oxygen bottles, flammable products, poisons, liquids under high pressure and hazardous materials. Consult your movers for the forbidden items.
Labelling the boxes
Use black thick marker;
Label the room on the boxes. Also, it will help if you put some kind of labels in the rooms of your new home. This will help your movers to unload the right boxes in the right room;
For easier recognition and organization write down a list with the items in each box and stick it on the side of every box;
Write "fragile" or "top" where needed;
If you want some specific boxes unloaded and unpacked first – separate them when you are done with the packing by using a special label, like the number 1.
Packing tips by our professionals
Start packing the seasonal items (for example – Christmas decoration if it's summer, or gardening instruments in the middle of the winter). After you are done – proceed with the stuff you need and use least, leaving the most used items for the last boxes.
Remove all fragile and easy-dismantling items from the drawers. Remove everything that could damage the rest of your belongings during the removal process.
Pack similar items together and separate the different one (for example – never pack porcelain or glassware in the same box where your books are).
It's best to pack and transport everything in one set together. For example – pack the mirror with it's fasteners together, just put them in a plastic bag and stick it to the mirror.
Pack all cords and cables in one place, separated by sets depending on their purpose. This way you can find them fast when you need them (as you remember – it's best to label them beforehand).
Pack every item separately in a clean wrapping paper. You can use also cotton napkins for the most fragile ones. You can use coloured paper to wrap the small items, so you won't lose them in the wrinkled paper. Don't forget to put a layer of wrinkled paper or bubble wrap for padding on the bottom of the box.
You can use your clothes as padding also. It's a multi kill, as you'll need to pack your clothes anyway.
Don't forget the rule – heavier items on the bottom, lighter items on the top. Put enough wrinkled paper between them. The more fragile are your items – the more paper you must use for padding.
Pack the smaller items separately, then add them in small boxes. If they are lighter – you can use a bigger box to hold the smaller ones.
Don't overload the boxes, but at the same time – fill them to the top. Use more paper or bubble wrap for padding if needed. Always fill the boxes, so the cover is tightly closed but doesn't sinks.
Always remember better packing – safer transport and easier unpacking. Keep in mind that if you choose the DIY packing option, your items probably won't be eligible for full insurance. No removal company in London will ensure your stuff when they cannot guarantee that you packed everything "by the books". Sometimes it is better to spend some extra money on a professional packing service than risking damaging your belongings during the removal process.