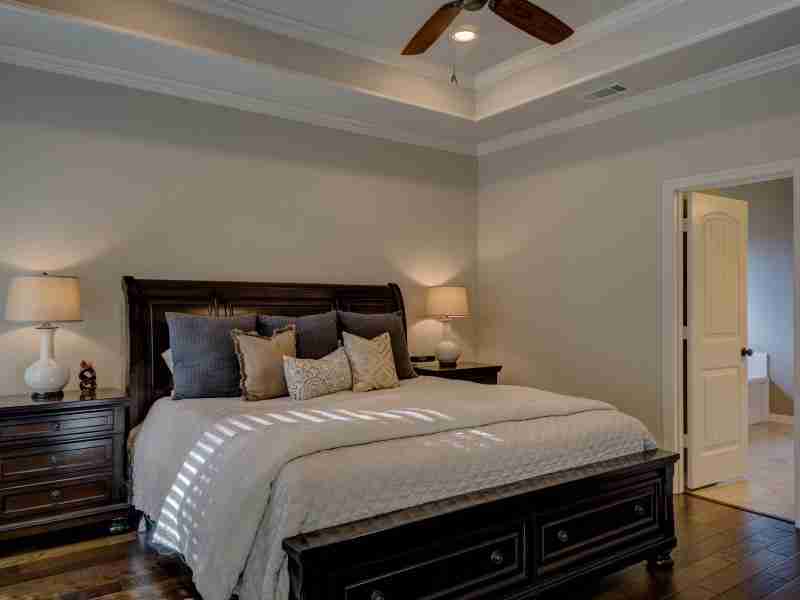 Packing up the bedroom is one of the most stressful steps in moving. It is recommended to start with smaller items like clothing, bed linens and photos. Then there are bigger ones like mattresses, bed frames and drawers that can take most of your time.  With many personal items kept in the bedroom, the room has to be packed.  This guide will give you all the tips you need to pack a bedroom and ensure that everything fits and nothing breaks.
Packing Materials
Start packing by gathering all of the packing supplies you will need:
Packing Paper;
Sturdy moving boxes (make sure they can be closed completely and their flaps are not damaged);
Wardrobe boxes (you can use regular ones for your clothes, but the wardrobe box will save you a lot of time for folding/packing/unpacking);
Packing tape;
Labels and markers (Once the bedroom items are packed label them to save hours when moving to a new place)
After you have prepared all the packing materials, it's time to proceed with the packing itself. For the most effective and fast packing of the bedroom, there are some steps to follow.
Pack Clothing and Linens
Decide which clothes you will need during the move and the first few days and separate them from the rest. If you haven't de-cluttered your home yet – now it's time to decide which clothes you will donate/sell and sort them out in a separate box. To save your clothes from wrinkles, it's best to use a wardrobe box. They cоme up with a hanger and could hold about 2 ft of wardrobe space. If you don't have a wardrobe box or don't mind some wrinkled clothes – start with removing each piece of clothing from the hangar and folding them. Pack the folded clothes in the medium or large-sized box.
Don't forget to line the bottom of the box with packing paper. Avoid using newspapers, as the ink could damage your clothing. Clothes from drawers could be packed folded in medium-sized boxes. Don't forget to protect them by lining the bottom of your boxes. Label them appropriately and ensure the box is not too heavy.
Packing Shoes
The best option is to pack the shoes in their original boxes and then place them all in a medium-sized box. If the original shoe box is unavailable – wrap each shoe with paper and wrap each pair together. Place them in a box and label them. Stuff them with paper so they can keep their shape.
You should pack heavy shoes in the box first. A sheet of bubble wrap serves as the base for the other layers of shoes, then stacked on top. Do not pack more than 20 kg in any moving box.
Never put heavy items on top of your shoes. You can use pillows, blankets and any light clothing to top up the cardboard box.
Pack Your Bedroom Bedding
Pack bed sheets, pillowcases, and towels in sturdy plastic bags. This way, when it's time to move out, you can easily identify which bedroom the bag belongs to. Also, it makes for a nice cushion for stuffing into odd spaces on the truck.
It's important to consider what you'll need the day before your move. The last thing you want to do is run at night before the big day and start opening boxes to find bed sheets. So, make sure to leave a set of sheets and pillowcases out for the night before moving day.
Small Rugs and Curtains
Small Rugs
When rolling up the rug, start rolling in the same direction as the grain. Once you've reached the end of the rug, secure the ends with two strings or twine. DO NOT wrap your rolled-up area rug in plastic film. The plastic traps moisture inside it and can cause the carpet to smell, making it unusable. Instead, wrap your rolled-up area rug in a couple of sheets and tape it up.
Curtains
If you want your drapes, blinds and curtains wrinkle-free – hang them in a wardrobe box. If you don't have a wardrobe box – fold them in plain paper and pack them in a medium-sized box. Don't clean them beforehand. Cleaning after the move will remove any stains and wrinkles.
Pack Books, Photos, Frames & Mirrors
Books
Always pack the books with the spine down and the open side up. Otherwise, you risk damaging the book's corners. Use smaller boxes for them, as the books are usually heavy. This way it will be easier to carry them.
Photos and Frames
Make sure to use extra padding such as bubble wrap when packing frames in a box or any fragile items for that matter. Pack all frames and photos individually with wrapping paper. Put them on their edges inside the box. Fill the gaps with crumpled paper, so they don't shift during the move. You should also make sure that the box itself is sized appropriately for your frames. Place a final protective layer of padding on top of the frames before sealing the box shut with tape.
For more expensive paintings, wrap the edges in pipe lagging for extra protection.
Also, for more secure packing, use a label that clearly states fragile picture frames and which rooms they will go into in your new home.
Mirrors
To protect delicate mirrors, you need to use special packing materials. Same as the pictures, wrap the edges of the mirror in pipe lagging. Different kinds of boxes, bubble blankets, bubble wrap and wool covers are essential for storing and protecting your mirrors. The size and shape of the mirrors will determine which kind of protective packaging you will need to use.
Tape a big X over the glass area. It helps to absorb some of the vibrations during transportation. It also keeps the pieces of glass in place if the mirror gets broken. Use packing tape for this.
Appliances and Electronics
Lamps
When packing a lamp, wrap the electrical cord around the base. Cover the entire lamp in several layers of bubble wrap or fill a moving box with bubble wrap to cushion it inside. The bottom of the box should be padded with blankets or some other protective layer to prevent the lamp from moving around inside. The lampshade can be wrapped in packing paper.
TV
When moving any TV or other electronic equipment, it's essential to prep with care. Original packaging is the best way to protect the device and keep it safe during the move. Packing it adequately with padding and cushioning materials is the best way to ensure that the device arrives safely at its destination. This will also protect it from vibrations, as they can be a problem for some electronic equipment. Make sure the box is well sealed to protect it from moisture.
How to Pack Bedroom Furniture
Check if the wardrobe, bed and other large bedroom furniture can be dismantled into smaller pieces. Start the packing process with the furniture that needs disassembly. It's the most time-consuming. Do one piece at a time. Put all the nuts, bolts and washers in a plastic bag. Label it and, if possible – tape it on a bigger piece of the furniture, somewhere easy to see. Wrap every piece with blanket/bubble wrap and tape them together. Don't apply tape directly to the furniture surface, as it could cause damage. Don't clean any of the furniture. The chance is – it will get some dirt and/or dust during the move, so you'll need to clean it in your new home anyway.
Wardrobe
Remove all shelves, drawers, and objects from the wardrobe before packing it. Wrap the shelves in bubble wrap or old blankets, then bundle them up with heavy-duty plastic wrap to secure the padding. Secure the wardrobe doors by wrapping them in industrial plastic wrap to stop them from opening and causing damage. Use furniture pads to protect the wardrobe or any larger items to protect them from scratches and dents.
If the drawers are full of light items – it's best to leave them. Just ensure they are sealed well, and there is no chance they could open during the move.
Mattresses
When packing a mattress for moving, it's important to get a good deal of protection and prevent any damage during moving. To avoid dirt, dust and moisture from harming your mattress, always use a mattress bag or box. Two adults should be able to move a mattress down the stairs easily. In the end, it's enough to store it against the wall.
Bed Frame
After moving the mattress and bed linens, it's time to disassemble the frame. Documenting each step will help a lot when it's time to assemble the bed. You can start disassembling in stages, depending on the type and dimensions of your bed. First, dismantle the headboard, remove the bed frame and finally work on the box spring. You'll need to take apart the slats of the box spring to get to the springs themselves. As the furniture pieces are removed, wrap them in with protective covers for safekeeping.
Moving heavy furniture is not something you can easily handle on your own. To ensure that you will not end up with damaged bedroom furniture, hire experienced movers to disassemble, pack, protect, and move your bedroom furniture pieces.
Get Rid of Unnecessary Bedroom Items
Go through all your belongings and discard any household items that you no longer need or that have been unused for years. Winter coats, summer clothes, toys from the children's bedroom that they don't play with or even some bedroom furniture. There are probably plenty of things that don't have to be kept just because they are still in good condition. As soon as they are no longer useful, they should be sold, donated or disposed of. This can make your upcoming move way easier by taking less space, lowering the moving costs and saving time packing.
Despite the best efforts, accidents can happen when you have to pack a bedroom. Before you rent a moving truck or fill your boxes, you should make sure you can physically move the furniture and pack boxes safely. If you are not sure, hire a professional home moving services to help you with the moving process.