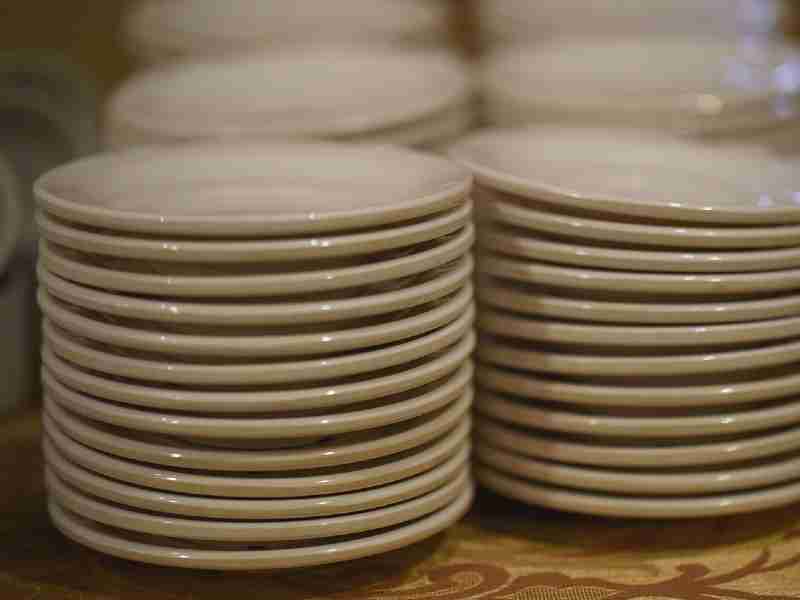 One of the most fragile items you'll need to pack during a move is your dishes and glasses. If they are not packed properly - it's easy to crack or even completely broke them even if you handle them with the greatest care.
You don't need to worry about that though, follow our step-by-step guide, and you'll learn how to pack plates for moving and any other flatware like a pro. In addition, we will explain how to pack glasses in the safest way possible. So, if you have wondered how to pack plates and glasses for moving, scroll to the lines below.
What You Need Before You Start Packing Your Plates and Glasses:
Sturdy medium-sized box – the box should be light enough to be moved after you fill it with plates or glasses.
Packing Paper (plain newsprint is ok too) – you will need one sheet for every 2 plates.
Packing tape - your best friend when you are moving house.
Bubble wrap - to ensure extra protection for your flatware.
Kitchen towels - great replacement for the bubble wrap if you don't have any. Also can be used to pack your knives.
Marker or labels - even though it's obvious – it's important to mark your boxes Fragile.
Plates and dishes - all of the flatware could be packed easily with this method.
How to Pack Plates for moving Correctly:
Line the medium sized box with a sheet of bubble wrap. The bubble wrap should be big enough to cover the bottom, the sides of the box and to have enough spare to cover the top of the box;
Place a stack of packing paper on the table (or the kitchen counter-top);
Place the first plate in the center of the packing paper;
Take 2 sheets of packing paper and fold one of the corners over the plate. Ensure the plate is completely covered;
Place the second plate on top of the covered first plate and fold the remaining three corners of the packing paper;
Use packing tape to secure the packed dishes;
Put the packed plates in the box. Place them on their side, not flat. This way the dishes could sustain a lot more pressure;
Repeat all the steps until the box is full;
If there is space left in the box after packing all the plates – fill it with bubble wrap or towels for extra cushioning;
Cover the top of the box with the spare bubble wrap and seal it tightly;
Label the box "Fragile" and mark the room "Kitchen".
Check out the video below to see this technique in action:
Things to Consider When Packing Plates:
For the smaller plates, you can pack 3 at a time instead of 2. This will save you some packing paper.
Using newspapers instead of plain newsprint or packing paper is not recommended, as it could leave ink all over your dishes.
If it doesn't move – it won't break. Ensure there is enough padding, so the plates are tight in the box. If you doubt – add more padding!
If you'll fill your box with 2 rows of plates – put the heavier below and the lighter – on the top. Don't forget to add padding between the rows. Bubble wrap is the best choice for that. The second row is also great for more fragile things, like stemware, glasses, teacups or even figurines.
If you are using a moving company for your domestic relocation and they pack your items – they will be responsible for your belongings. Packing by yourself doesn't give you that benefit. That's why it's often better to use professional packers and movers – they will reduce the chance for damages during the move, and all of your stuff will be fully insured.
Knowing how to pack the dishes and the plates is not enough if you plan a long-distance move. If you are about to relocate and take everything with you to the new destination, please check our detailed post for packing before a long-distance move.
How to Pack Glasses for Moving.
One of the best ways to protect your glasses, cups and mugs when transporting them to a new place is to use a divided box. Divided boxes are usually used to transport bottles but can work great for glasses too. You can also use a small or medium-sized box, line it with bubble wrap, and top it with packing paper. Use the "nesting" technique as it's one of the safest and most space-saving ways to pack glasses.
You can "nest" three or four glasses depending on the size and weight. Wrap each glass with two sheets of newsprint, then before you stack them into each other, line the inside. Place the stacked glasses diagonally in the box, and you can wrap them again to be safer.
For extra protection, wrap the stacked glasses in bubble wrap. Tuck the paper and secure the end again with bubble wrap. Don't pack the box too much, but make sure there isn't any space. Fill the empty spaces with bubble wrap, paper or newsprint so that the glasses can't shift around.
Packed the dishes and glasses and can't decide what to do next? We suggest starting packing your shoes as soon as possible. If you have no idea how to start or proceed, check our complete guide about packing shoes.
Get a Free Quote