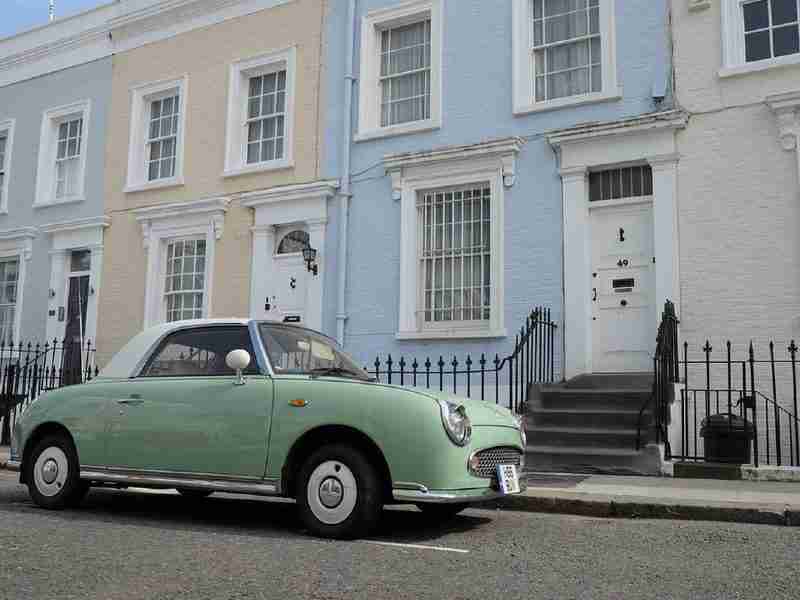 The process of buying a house in the UK can last anywhere between 3 and 6 months. And that's if you're lucky and there are no additional delays along the way. If any obstacles appear, such as the property having a long chain or gazumping/gazundering*, it might take longer.
However, if you count the process of searching for a home, it can last for a year or more for some people. Everyone's experience with buying a home is different because many variables in the process can delay the completion of the purchase.
At times it might feel like simultaneously nothing is happening for a long time, and at the same time, you're constantly chasing crazy short deadlines for filling out and filing documents.
We want to break down the entire process for you. Hopefully, this article will make things clearer for you and help you organise the process when you find your dream new home.
Buying a home isn't easy or cheap. No matter the location. Whether you want to buy a house in the capital or a small cottage in the countryside, the price and size may vary, but the process of buying doesn't. We've summed up the average time to buy a house for each step of the process.
So, how long does it take to buy a house?
Process for Buying a House in the UK: Step by Step
We've summed up and illustrated the process of buying a house step by step.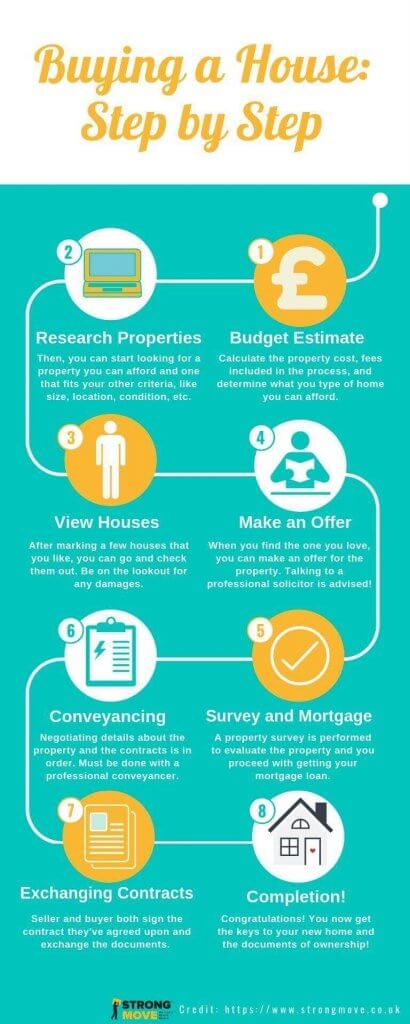 Step 1: Estimate How Much You Can Afford to Spend.
The most important question is, "Can I afford to buy a house?" You have to find out what mortgage you can afford, what monthly payment you can cover? And the other additional fees included throughout the entire process - deposit, survey cost, solicitor and conveyance costs, etc.
Numerous lenders will be able to assist you with buying a home. However, it would help if you had an estimate of how much you can afford to pay. Generally, it's recommended to look for a home that costs between no more than 3 to 5 times your household's annual income. Plus, you have to save a per cent of the sum to pay the down payment. Down payments can vary greatly. 95% of mortgages are mostly available only for first-time buyers.
You can use a mortgage calculator or talk to a lender about a mortgage pre-approval, so you know what amount you can afford.
*Note: For first-time buyers with stable jobs and no current debt, the process of pre-approval may take a couple of days the most.
There are also various government social, financial schemes for first-time buyers in the UK:
Shared ownership
Help to Buy: ISA
Right to Buy: council home
Help to Buy: equity loan
You can check out the options for homeownership schemes and see if you're eligible for one of them.
Time: three to five days for pre-approval.
Step 2: Research Properties Within Your Price Range.
After you know your budget and what size of mortgage you can afford, you can start researching houses within your affordabilities. Some people do the opposite - first look for houses for sale, fall in love with a house, and then, after talking to a lender, they realise they cannot afford it.
But when you first determine your budget, you will save time looking at properties outside of your reach. Select the properties that fit your criteria and budget and view them. After all, buying a home is not a small investment, and you should make sure you check out all your options so you can make the best decision for your family and yourself.
Don't be afraid to go to as many house viewings as you can.
Time: anywhere from one month to a year.
Helpful reading:
Costs of moving to London.
Best Day of the Week to Move – Moving House With Less Stress
Step 3: House Viewings: Things to Look Out for When Buying a House.
How long do house viewings take? It depends. This step is not only to check out the properties you've selected online. It's the step when you get to check the house for yourself: are the pictures hiding something like mould, mildew, pests, poor maintenance, etc.
You should examine the surrounding area and neighbours, facilities nearby, and anything else you'd like to have or don't have near your new home.
What to ask when buying a house? If the owners are present at the viewings, you can use the time to ask why they are selling property, is there something they particularly don't like about it. You can ask questions about the property's condition, when it was last renovated, are the neighbours loud, etc.
There are many important questions you should ask while viewing properties before buying for the first time.
Time: It could take a month or more.
*Depends on the number of properties you wish to view and the sales agents' availability.
Step 4: Make an Offer for the Property.
If the seller has announced a set price for the property, they are more likely to sell it to the first person who agrees to the price. They rarely are willing to negotiate the price, but if you insist on doing so, ask the sales agent to do it or a solicitor.
If a property doesn't have a price online, and the seller wants to see offers first, you should make them a proposal within your price range, of course. Talk to the sales agent or a solicitor about a reasonable price.
If you see 'Offers over' next to the price, this means that the seller wants potential buyers to hear higher offers than the one they've given.
Time: 1 or 2 weeks.
*Depends if the seller will agree to your first offer, decline it, or you start discussing offers.
Note!
If you're thinking about going through the entire process of buying a house on your own, without a professional, you're risking wasting a lot of time and filling out papers wrong. Find a good legal representative or a team and let them help you.
Step 5: Survey and Mortgage
Getting a mortgage loan approval and documents can take up to 4 weeks. During this time, the lender reviews the documents you've submitted: proof of identity, address, proof of income, bank statements of your current bank account, utility bills, and other necessary and additional documents depending on your status.
The review of the submitted documents is one of the things that takes time at this step. The other time-consuming thing is property appraisal. A professional surveyor or the lender does it to check the market value of the property. If you stop paying your mortgage, the lender has to sell the property to get their money back.
*Note: You are paying the valuation fee. So add this to the cost estimation.
Time: Up to 4 weeks.
Step 6: Conveyancing.
Conveyancing is the legal action of transferring the title of the property from the seller to the buyer. This step must be done with a professional and experienced conveyancer, so do your research well.
This leads you closer to the end of the process and owning your first home.
Time: *Depends on the complexity of the purchase.
Note!
Keep in mind that if you have a deadline, or the property you're buying has a long chain, you might need to find a reliable conveyancer to help with the legal side. You should be ready to pay more the conveyancing but have a peace of mind that it will go smoothly.
Step 7: Exchanging Contracts.
After preparing the contract and both parties agree on it, both sign copies of it and exchange them. Each party must have a signed copy by the other side. After this, it's time to transfer the money to the seller's account and pay for your own home (your mortgage loan must be ready by this point).
Time: A couple of days.
Step 8: Completion.
After the contracts exchange and the money transfer to the seller, you will get the keys to your new house.
Congratulations, you're now a house owner! All that's left for you to do is choose the date for moving out, pack up and move into your new home.
Time: Up to a week.
How Long Does It Take to Buy a House With a Chain?
If the property is new-build, it will not have a chain as it hasn't been owned before.
*The term 'chain' in real estate is used to sequence multiple purchases for a number of properties. When one person sells a house and, with the money from it, buys another house. And this chain can have a minimum of two people and no maximum of people and properties.
The longer the chain, the more time it will take to finish the purchase of your new house. And there's a chance that it fails altogether if one of the people decides to give up.
Additional Costs When Buying a House?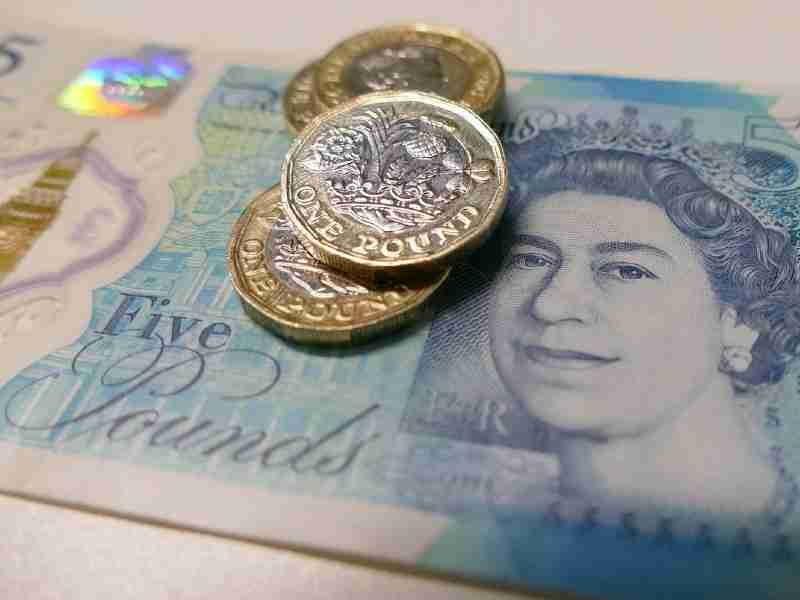 Additionally to the legal fees we mentioned above, there are also some extra fees related to buying a house before and after the process has begun.
Booking fee - not necessary; it depends on the type of mortgage you've chosen. But a booking fee is a sum of money (not a big one) that you pay to your lender when applying for the mortgage. It's often paid before you're even approved for the mortgage loan. It's not refundable.
Surveyor fee - do not confuse this for the valuation fee. They are different. The valuation fee is for the lender, to determine the real value of the property and decide if it's in accordance with the mortgage loan. And a Surveyor fee is the price you pay a surveyor that makes a thorough inspection of the house to check its condition - electrical system, heating, damages, weak spots, etc. This is solely done for your benefit.
Moving costs - arrange for a man and van service in advance. Moving your family with everything you own is not an easy task and should be planned ahead.
Council tax - when you complete the purchase and decide on a moving date, you should inform your local council in advance of your move. You will have to cancel the council tax at your current place of residence and set up a new one for your new home.
End of lease cleaning service - if you're currently renting and when you leave you should have a professional end of tenancy cleaning of the property, which is also an expenditure. The good side of it is that it will help you get your deposit back, which will be times higher than the cost of the service.
Broker fee - not necessary for the buyer. Some agencies require payment only from the seller, some from the buyer as well, and it's usually a percentage of the property cost.
Average Time to Buy a House.
To sum up, there's no fixed period for completing a house purchase. How long it takes to buy a house, on average, is at least three months to get every document in order. Two months if you're fortunate. This average time is without the period when you're looking for a property that you like. And without having additional obstacles along the way.
If you have the money in cash, for the property cost, for all fees, and additional expenditures, the average time to buy a house will be less.
Gazumping and gazundering are also variables that should be considered, as it is not uncommon for either to happen. And either can slow down the process for an unlimited period.
*Gazumping - when the seller verbally accepts an offer from a particular buyer, but then the seller accepts another buyer's higher offer. Or if after the initial verbal agreement, the seller starts asking for a higher than the agreed-upon price.
*Gazundering - the opposite of gazumping. When a buyer has verbally made an offer, and the seller agrees, and then the buyer asks for a lower price.
---
*Disclaimer: Strong Move is a removals services provider. We do not offer legal advice. We provide informative content. *
Need help with your house move?
Check out our house removals service.