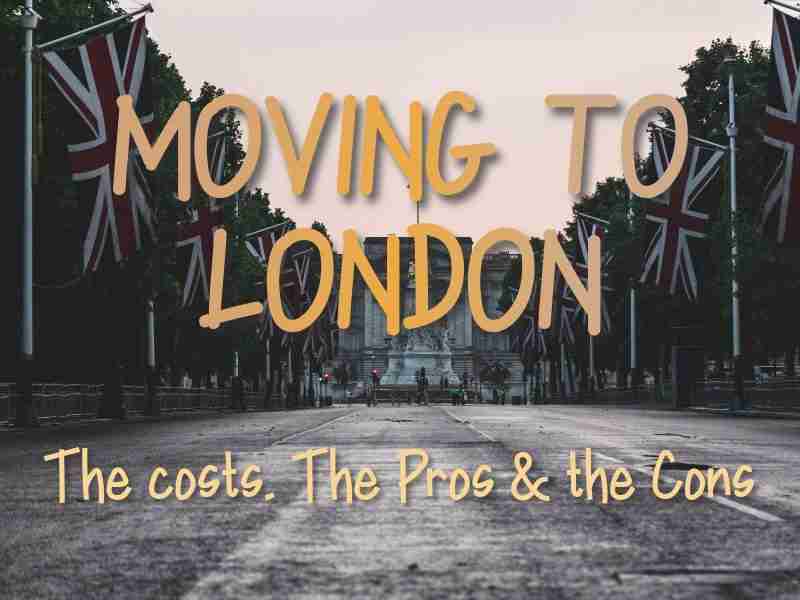 Reading time: 9:10 min
We already talked about moving OUT of the UK now it's time to talk about moving TO London. The capital has a population of over 8 million people which makes it a city full of possibilities and options for people of all ages. It's not an accident that millions of people choose to live there. Most of the citizens were not even born in the UK but have chosen to move and remain there.
Every year hundreds of people choose to move to the big city for various reasons, if you too are thinking of undertaking this huge step, you have come to the right place. We will give you all of the information you need about the costs of moving to London, tips to make it easier, and answer the most asked questions.
Cost of Moving to London
As one would expect, life in London is not the cheapest. Even if you find a way to relocate to the big city without spending too much money, then you'll face the reality of how much it costs to live in the metropolitan. If you are someone who has never been to the capital more than just for a couple of days or doesn't have anyone familiar with who lives there, then you need to be prepared. You must have information about the yields of at least some of the basic expenses and bills you will have to pay and evaluate if you will be able to afford to live there. So aside from the home removals service and its cost, here are some costs you should know:
Housing Costs for Renters:
| | City centre (Monthly) | Outside city centre (Monthly) |
| --- | --- | --- |
| 1-bedroom flat: | £1,100+ | £900+ |
| 3-bedroom flat: | £2,100+ | £1,500+ |
The average price for a 2-bedroom apartment in the city is £1,500+ and can rise to £3,000, the closer it is to the centre.
Most people who move to London alone resign to flat sharing, where you rent an apartment with someone else, usually a stranger, and you can only use one bedroom of an entire apartment. The price for a one-bedroom when flat-sharing is approximately £700+ a month.
Not only the rental prices but also the cost of buying a house in London are among the highest not in the UK alone, but the world. It is almost impossible to buy a house in London as the prices are between £5,000 per square metre outside of the centre and start from £10,000/sq.metre in the centre.
Rent can eat up your income if you are not careful, you need to be prepared and if you can know what your monthly salary will be or find a cheap flat to rent before moving, that would be better for you.
Important:
An important thing that people might forget to calculate is the amount of money you'll need to secure your rental! You need to pay an upfront cost for the apartment you will live in, and if we break it down, it consists of: first month's rent, a deposit for six weeks rent, and leasing agency fees. All in all, it will cost you more than £2,000+ to just secure the apartment.
Bonus tip: Always read your leasing contract carefully so you don't end up paying hidden costs or sign a lease that has unbeneficial for you clauses.
Bonus tip 2: Don't sign a lease or pay a deposit WITHOUT seeing the property first! After seeing the property, you can pack your suitcase and move.
Buying a house in London is possible, of course. There are schemes and working together with the Government can help you reduce the price if you are eligible according to each scheme's requirements. You can check all of the schemes and find one that suits you.
Read more:
How long to complete a house purchase?
Difference between living in the countryside and living in the city.
How to choose what day to move?
Costs of Living in London That You'll Have Each Month.
You may think to yourself "The rent sounds a lot but at least I'll save money on food or socialising"... you're wrong! Everything in London is a bit more expensive than it is in other cities in the UK. Here's a breakdown of other monthly expenses that you should know:
Groceries - £200-£250
Utility Bills - £150-£200
Transport - £110-£130
Socialising - £150-£200
The total cost with the monthly rent can be anywhere from £1,400-£2,200.
If it doesn't matter to you how you are to the city centre, you can rent a flat in one of the 32 boroughs of London and pay less on rent and save on some other monthly expenses.
Groceries and Restaurants
One of the negative things about moving to live in London is that everything seems to be more expensive than in other cities. For examples, dining at a restaurant can cost you a lot. But there are also many inexpensive restaurants that you can find and have a proper meal for a proper price.
Groceries prices:
Coffee - £2.00-£3.00- in some coffee shops it could cost more.
Fizzy drinks - can cost up to £2.00 for a bottle.
A carton of eggs can be found in the price range of £1.50-£3.00.
1kg apples ft also anywhere between £1.50-£3.00.
1kg meat - chicken can go from £5.00-£10.00 and beef up to £12.
Bread - many bakeries will offer you a wide range of bread than you have ever thought possible. A loaf of bread can cost you anywhere from £0.70-£1.50
Tip: Save money on groceries by regularly checking for sales in your nearest supermarkets.
Going out to drink is expensive in every city in the world, and London is no exception. In fact, it said that the prices of alcohol in the capital are the highest in the UK. That might be arguable, but here are some example costs: 0.5l or a bottle of imported beer at the pub will cost you between £3.00-£6.00. If you buy them at a supermarket, the cost can be reduced by half.
Average Costs for Personal Items, Clothes, Gym:
Casual summer dress - £20-£60
Pair of jeans - £40-£90
Formal shoes - £50-£120
Trainers - £45-£90
Gym membership: £65 per month
Movie ticket: £12
Cost of Transportation and Moving to and Around London.
Using your car in a city as big and as busy as London is pointless and expensive. Especially if you only use it to get to work and don't need it for work. The traffic is heavy, there are few parking spots, overall it's much more cost and time-efficient to use other means of transportation.
The transport system is complex and scary at first but you'll get used to it. In the latest years, many lines of buses were made 24/7, so even if the Underground is no longer working, you can use the bus to go home...or go out.
You can pay any with a contactless card with an Oyster card, or get a Travelcard. They work for buses, the Underground and the Overground. A monthly Travelcard can cost you around £130, and kids, teenagers, students have discounts.
You can make your life in London easier by downloading mobile apps that were designed for this purpose. There's a variety of apps, not only for the different transportation systems in London but for most other aspects of your day-to-day life in the capital.
*These are average prices, depending on the area you live and shop in, they might differ. Data is taken from https://www.expatistan.com/cost-of-living/london
---
Moving to London Alone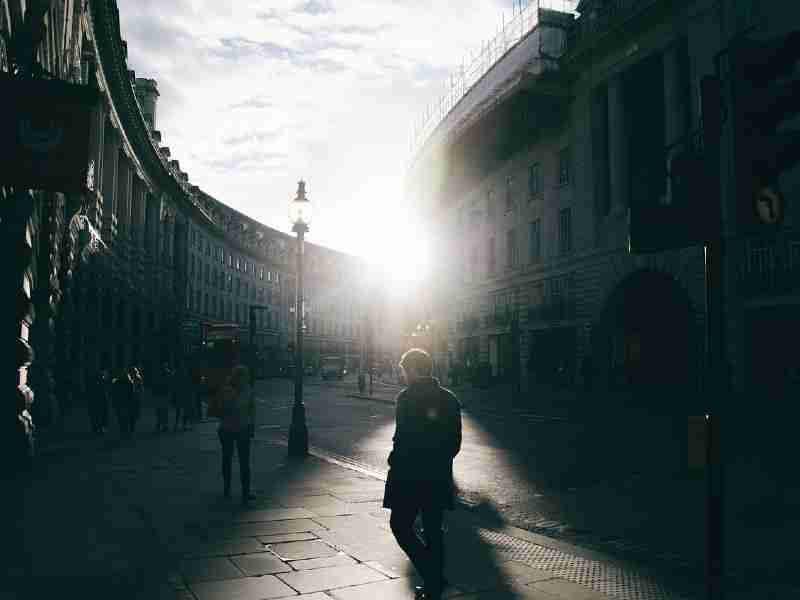 Moving to London Without a Job
The average salary in London is indeed higher than the average for the entire UK. It offers a wide variety of positions in a variety of fields, it offers career possibilities and growth. Most of them accompanied by a respective salary. It wouldn't be hard for you to find a well-paying job in London, especially if you have experience and knowledge in a certain field.
In fact, seeking a better job/salary is one of the leading reasons why people move to London, not only from other cities in the UK but from the rest of Europe as well. People have different experiences and different pieces of advice for people who are pondering whether to move or not.
If you move without finding a job first, you should be prepared to work at a few cafes, restaurants or bookshops until you get a feel of the city, its dynamics and get oriented. Then you'll be more confident and at ease looking for another job.
If you are moving to London for work but are not a British Citizen, then you need to have a work visa/permit to be allowed to work. For British Citizens, a copy of their passports is enough. Also, you can check out this post on preparing for a long-distance move.
Moving to London in Your 30s
If you are moving to London on your own, if you are in your 30s, or if you've recently graduated from university, London certainly offers you an abundance of options. It is the city with the most nationalities and in a city with 8 million people, you will definitely find people who think like you or have the same interests. You can find a job that is in your field of studies and experience.
You find people in social groups with similar interests, you can join classes or play sports, whatever your hobby is, you will find a place to practise it in London and meet people.
In a city with millions of people, there's bound to be some unwritten rules of life that you should quickly learn to ease your life. Especially when it comes to transportation.
Moving to London to Study
If you are already accepted into a university and are definitely moving to London, then an incredible adventure is awaiting you. Living as a university student in the capital provide you with a lot of growth opportunities and also a lot of benefits. Students can take advantage of many discounts - for transportation, for food deliveries, libraries, museums, etc.
You'll have to get used to living in a tiny space with at least one more person because that's what you'll be offered at a reasonable price. Living in student accommodation is pretty much the same, except a little bit cheaper (but not always), so declutter your home and life.
You will notice how much more expensive normal things are than in your hometown. You'll quickly have to learn which stores often have discounts, coupons, etc. But don't worry, there's always something at a discount.
Moving to London After Graduation
As a recent graduate, regardless if you studied in London or not, you should spare enough time to think and rethink before you move. Young people straight out of university tend to have unrealistic expectations about life in London and their careers. The possibilities are endless but you have to be sure you want this life.
London is a magnificent city, full of many and different cultures, ethnicities, people with different interests and goals, endless job opportunities. The streets and museums are filled with history and art. It is a huge city with over eight million people in it... and it can be overwhelming. It will take you months to get used to it if you are from a small town, but try to quickly overcome the moving anxiety.
If you can convince a friend to move with you and share a flat, it would be best in terms of not feeling alone, having someone to comfort you when you feel down, plus you'll save some money on rent.
Moving to London: Where to Live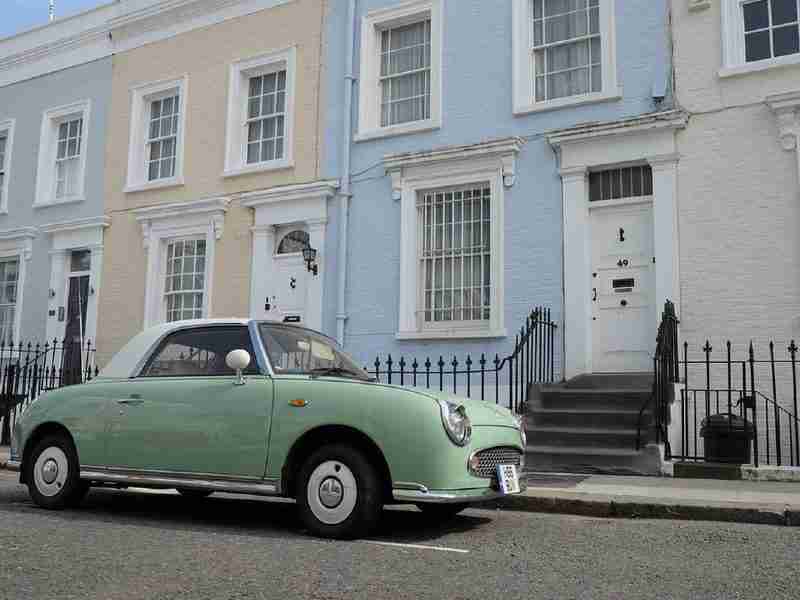 Deciding where to live can be tricky, too. You have to have a grasp of what the different areas and boroughs are like and where the rents are high and where they are lower. Where will you feel better? Is there convenient transportation, supermarkets, is it close to your work?
When you were a teenager, you may have laughed at your parents for being worried about your safety. However, when you are moving to a city as big as London, and as full of different people, it is important to know which areas are safe and which are not.
As you can guess, living near the centre is more expensive than living farther from it. But if you decide to spare money on rent and live far from the centre, you should take a look at what job vacancies are in the area.
Take a look at the list of best places to live in London in 2018.
---
Moving to London With Family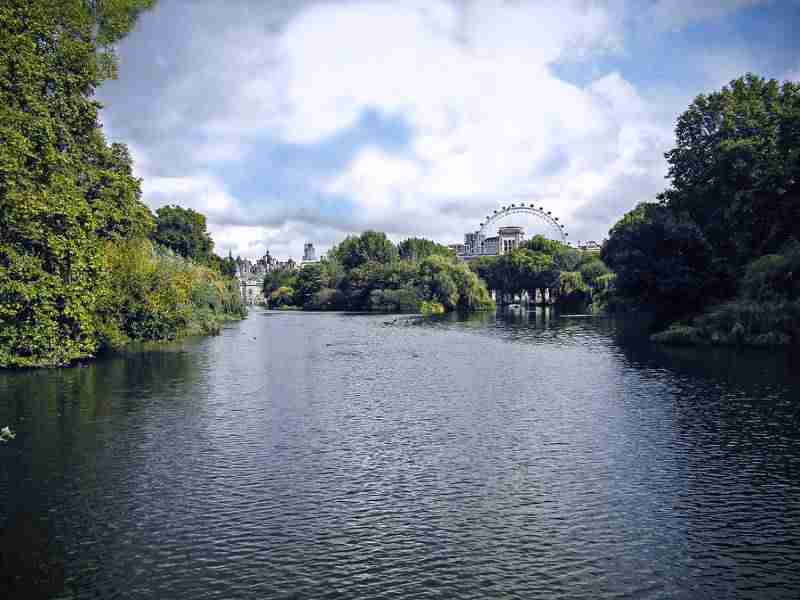 Moving to another city is always stressful and takes time to get used to the new surroundings, unfamiliar people, unfamiliar streets and restaurants, different job and colleagues. In itself, London is a living organism and you have to pick up its pace and find your place.
When you and your entire family are moving to London, all of the above-mentioned points are still important, but there are other things to consider as well. For example, need to find a bigger enough home that is sufficient for your family, but still doesn't eat up most of your income. Regardless if you have kids or plan to have them while living in London, you should look up kindergartens, schools, everything you'll need for your child and everything your child will require when they grow up. There are so many to check but here you can find helpful information.
You will see lots of statistics about the wages in the capital being higher than the average for the UK. But with high salaries, come high prices for everything, as we said at the beginning of the article. Make the right calculations for you so you don't end up at one point with your expenses exceeding your income.
Pro Tip:
You can use our
moving checklist
to be more organised before, during and after the moving process.
Moving to London With a Dog
Have a four-legged member of your family that wants to come with you to the big city? If you will be flying to London, you should research flight arrangements for pets. Find a carrier for the dog if it can fit in one.
What you need to research first is the documentation needed for travelling with a dog and relocating it another country. Find out who and where can you get the necessary ones issued and filled out.
Moving house with a dog isn't that hard, but you should talk to the veterinarian and ask for some routine procedures so you are certain that your dog is healthy.
If you are not from the UK, make sure the breed is allowed to be imported in the UK. There are some breeds of animals, including dogs and cats that you cannot freely import in every country.
Vaccines calendar, international passport, any other documentation you might need, might require a month or more to make, so don't leave it for the last minute.
Moving to London and Council Tax
Council tax is the tax on a domestic property, where each property, based on its value, is assigned one of eight bands to form the amount of tax. See all bands and their values here.
If you are from the UK then you are familiar with the tax. Just don't forget to inform your current local council that you will be moving so they can cancel the tax on your current property.
And inform the local council in your soon-to-be-new-area that you are moving in the neighbourhood so they set you up an account.
Check out our post on how to cancel council tax when moving house.
---
Pros and Cons of Moving to London
| Pros | Cons |
| --- | --- |
| There're many amazing parks to visit and enjoy free time. | The typical English weather can be a downer. |
| Fantastic public transport system. | Lots of traffic. |
| Full of museums, theatres, art galleries. Some are often free to visit. | Some areas are extremely polluted. |
| Businesses are growing in number and flourishing. Many job opportunities. | Finding a parking spot is nearly impossible. |
| There are markets where you can find affordable food and other things. | Life, in general, is expensive. |
| There are people from various ethnicities and countries, easy to make connections with different people. | Crowded with tourists. |
| Great food options and restaurants. | Might have to wait weeks for a reservation at your favourite dining place. |
The list could go on and on. It is a big decision to make and should be considered carefully in every aspect. People move to and from London daily. We hope this article helped you in estimating the overall costs of moving and living in London so you can make the best decision for you!
* Strong Move is a removals service provider, this blog simply provides informational content. This blog does not offer financial advice.*
Sources:
https://www.ons.gov.uk/
https://www.londoncouncils.gov.uk/who-runs-london/london-facts-and-statistics
https://toughnickel.com/real-estate/Pros-and-Cons-of-Living-in-London
https://www.ons.gov.uk/peoplepopulationandcommunity/housing/articles/housepriceshowmuchdoesonesquaremetrecostinyourarea/2017-10-11
Ready to move to London?
Check out our domestic removals service page for more information about how we can help.